AND IF WE DID A WORLD TOUR ? TAKE YOUR POLES!
Let's make a maximum of kilometers together in Nordic walking.
And if we did a world tour ? Whether with your club, your friends, your family... Walk longer to go even further with the free DECATHLON COACH app and its dedicated training sessions.
NORDIC WALKING IS A REAL BREEZE!
You want to introduce a sport activity to your child. To motivate him and help him get started, you must find an activity that suits him and adapted to his age! If you practice Nordic walking, why not take it with you? This soft sport, practicable from an early age, helps psychomotor development and allows the whole family to get together by walking. So, are you tempted ?
Behind our products, there is us: an enthusiast team who work with you, the walkers, to develop products that are always more adapted to your needs.
THE IDEAL OUTFIT TO PRACTiCE NORDIC WALKING
Do you feel like trying Nordic walking? This sport requires just few equipment. A pair of poles, suitable Nordic walking shoes, sportswear and a small backpack are all you need. All you have to do is equip yourself to do your first nordic walking training!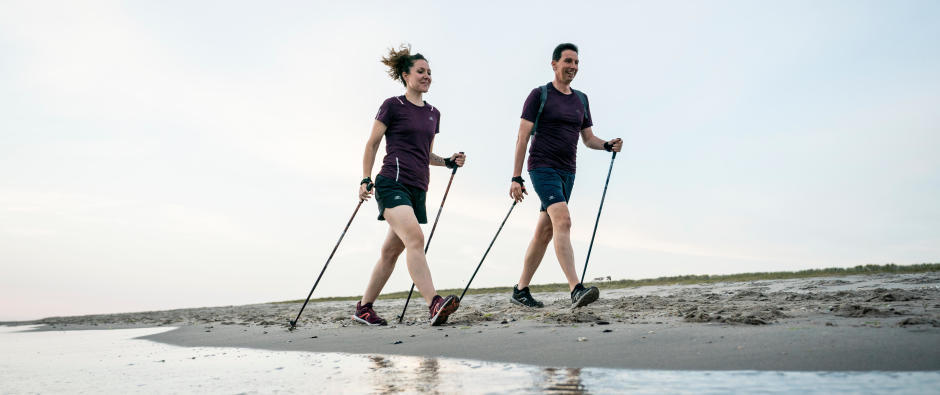 JOIN THE NORDIC WALKING COMMUNITY AND SHARE YOUR TIPS AND WALKING SESSIONS! #WALKING #NEWFEEL #NORDICWALKING
Take a picture or video and post it on the networks with #WALKING #NEWFEEL #NORDICWALKING
* The prices listed on the site are the prices recommended by DECATHLON SA's central purchasing department.