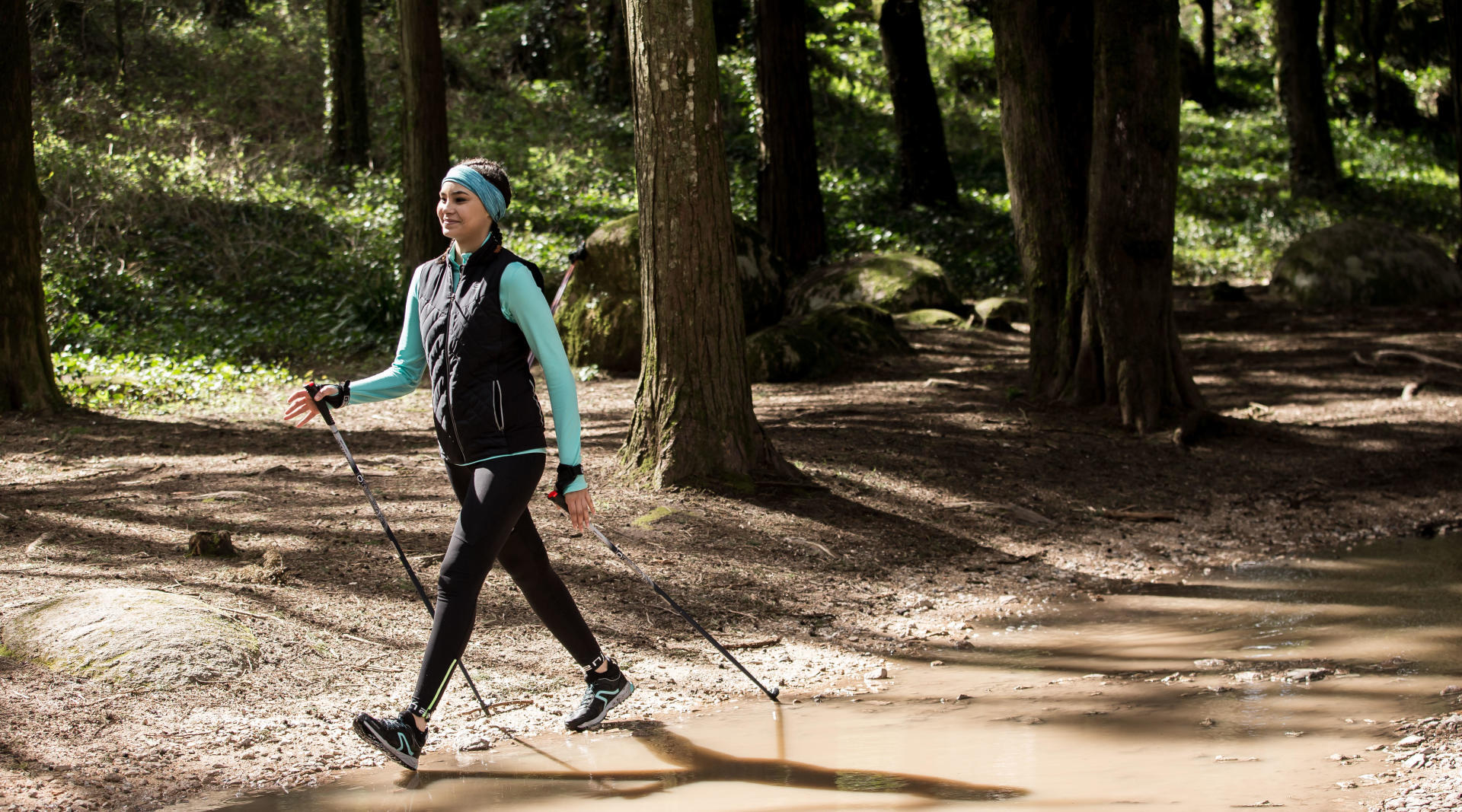 Step up from fitness walking to Nordic walking
Nordic walking and fitness walking are gentle sports activities that have many similar benefits. However, switching from fitness to Nordic walking requires some adaptation, especially for learning to use the poles properly. Let's look at the details!
The benefits of fitness walking
Fitness walking is a simple physical activity because it requires very little equipment:a good pair of walking shoes and sports clothing. This activity has a positive effect on your health because it increases your energy expenditure (about 300 cal/hour) and reduces the risk of cardiovascular diseases. It is also the perfect discipline for resuming a physical activity without causing a major shock to the system.
Nordic walking and its 5 benefits!
Nordic walking is also a "shock-free" physical activity, despite the fact that you need to use special poles tailored to your height. Its benefits are similar to those of fitness walking, while the arm movements exercise 90% of the muscles of your body.
1. This is a dynamic physical activity that exercises the cardiovascular system very well without being as "traumatic" as running. The poles, which aid propulsion, increase your speed (from 6 to 11 km/h) and help you expend more energy than fitness walking (about 400 calories per hour of walking).
2. However this is not the only advantage of this discipline. On hilly terrain where it is difficult to keep up a fast walking pace, poles help to steady yourself and move forwards despite the uneven terrain.
3. Nordic walking is also ideal for breathing deeply! Indeed, using poles helps to open up your rib cage which expands your breathing capacity.
4. Walking with poles forces you to adopt a more upright posture and therefore relieves back problems. This gentle and stress-free exercise of the body reactivates the muscles of your back from top to bottom. The improved posture and stronger back muscles will create the right conditions for exercising your neck, thereby reducing pain and stiffness in this area.
5. Finally, fitness walking relieves tension in the knees and hips because of the role played by the poles in absorbing the slight shocks experienced with each stride.
Nordic walking poles quickly become the essential walker's accessory. As soon as you become comfortable using them, you won't be able to imagine walking without them. It is therefore important to know the technique. To do this, you must respect the following key points:
• Pushing with the arms: Your arms set the pace. If you want to accelerate, swing your arms more quickly and your legs will follow.
• Synchronise the arms with the opposite leg: in order to create this walking movement, you must synchronise the arms with the legs, or rather, the left shoulder with the right foot followed by the right shoulder with the left foot.
• Plant your poles in the right place: the poles should be planted near the back of your feet at an angle of 45° with be ground.
If you are already an experienced fitness walker, don't hesitate to mix it up and gradually switch to Nordic walking. It will boost your walking speed and energy expenditure, while also enhancing your breathing capacity and posture.
* The prices listed on the site are the prices recommended by DECATHLON SA's central purchasing department.