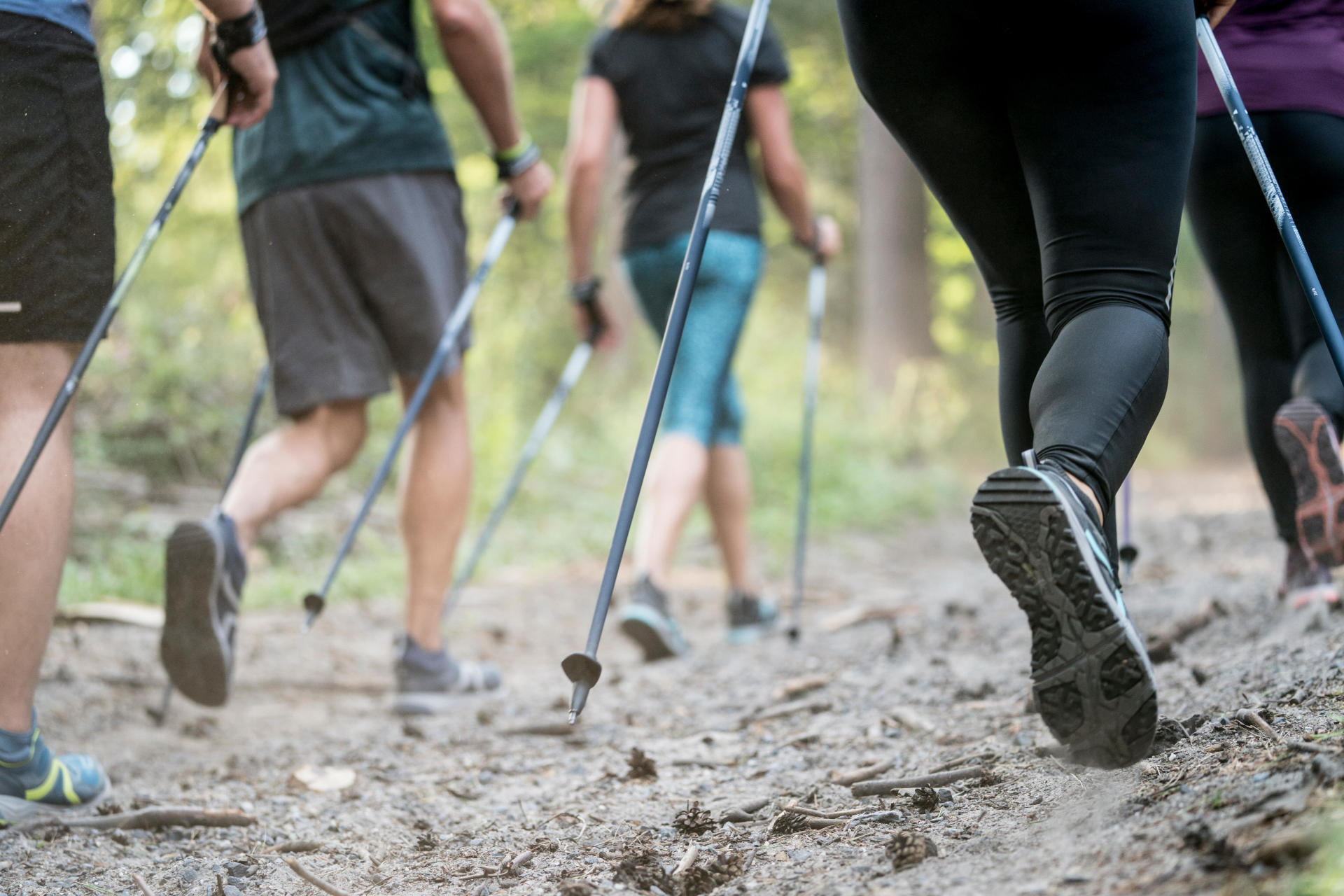 How to get equipped for Nordic walking
Do you feel like giving Nordic walking a go? This sport only requires a small amount of equipment. A pair of poles, some special Nordic walking shoes, some sports clothing and a small backpack is enough. Once you have the right equipment, you can embark on your first Nordic walks!
What equipment do you need for Nordic walking? Poles! It's true, this activity is based on using a set of two poles to help you walk. The Nordic walking poles will help to give you extra propulsion and your upper body a real workout.
Before you learn the Nordic walking technique and how to use the right movements, you should know how to choose the right set of Nordic walking poles. It's important to choose the right poles for your level. For beginners who go Nordic walking once or twice a month, aluminium poles with a steel tip will be perfectly suitable. Regular walkers will benefit from carbon poles with a tungsten tip.
Watch the video to find out how to use Nordic walking poles and take advantage of our advice!
2 - Flexible Nordic walking poles
When you're Nordic walking, the foot makes a specific, technical movement. It is made up of three stages: the heel strike, the heel-to-toe transition and the forward propulsion off the toes. Therefore it is very important to wear flexible Nordic walking shoes to accompany the foot motion.
If you walk on wet, muddy country paths, remember you will need shoes with good grip to stop yourself from slipping!
When you start Nordic walking, you don't have to buy any special outfits. Opt for sports clothing that is both light and comfortable for your Nordic walking sessions. It is important to be comfortable enough to make wide movements: your outfit shouldn't hinder your arm and shoulder movements.
Use a pair of tight bottoms to avoid chafing (running tights in winter, or light shorts in summer if necessary), a technical breathable T-shirt, sports socks and a waterproof jacket if the weather requires it… And a cap and a pair of sunglasses if it's sunny!
A backpack is an essential piece of equipment for your Nordic walking sessions! It will allow you to take a bottle of water with you as well as an energy snack. Always remember to take some water with you when you go walking: don't forget that it is essential to stay well hydrated, whatever sport you do.
If you are just beginning Nordic walking, take a look at our article on the five mistakes for Nordic walkers to avoid. It gives you lots of practical and useful tips for starting off Nordic walking on the right foot!
* The prices listed on the site are the prices recommended by DECATHLON SA's central purchasing department.