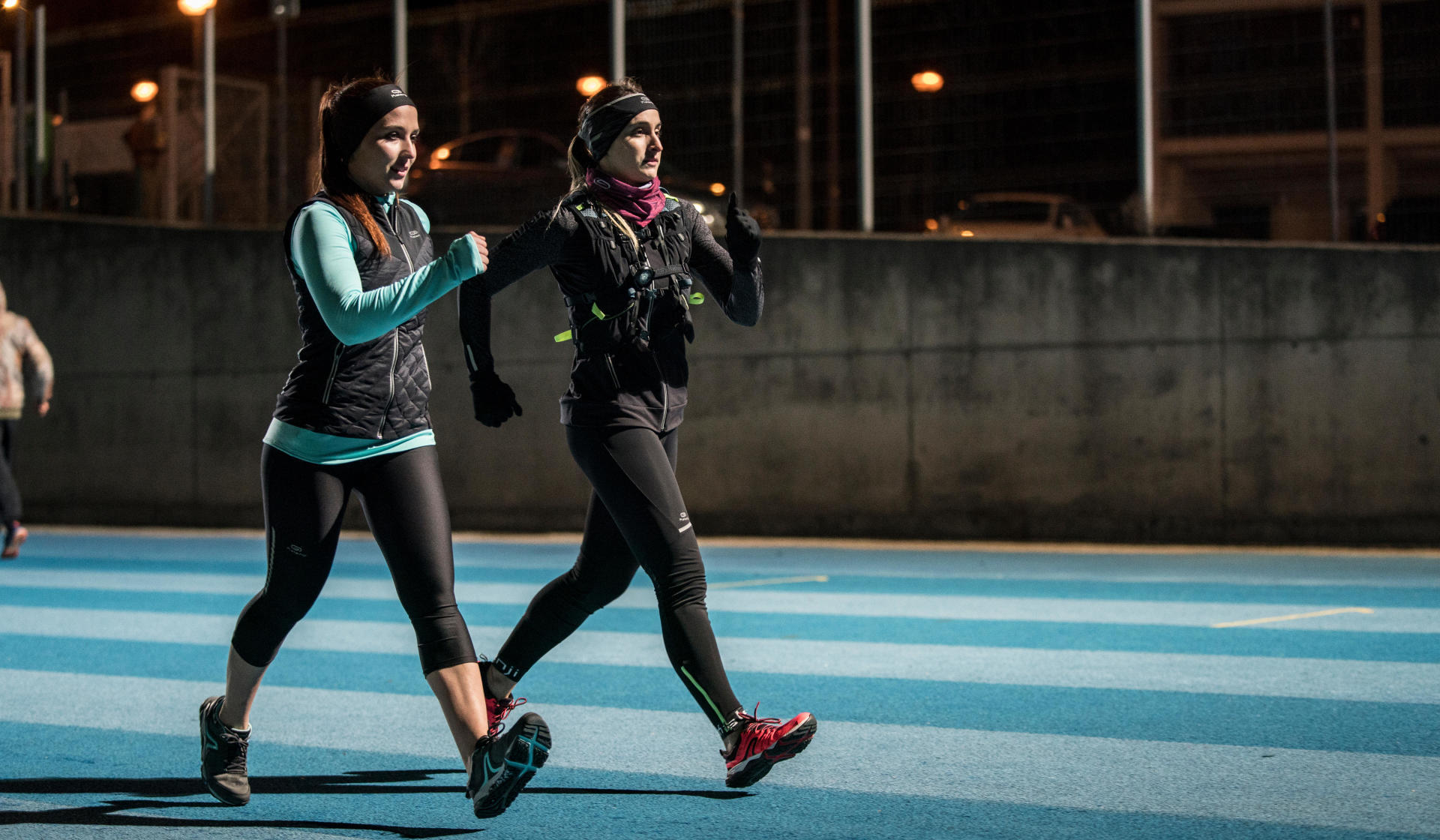 4 tips for fitness walking at night
You do your fitness walking or Nordic walking early in the morning or late in the evening. But are you worried about losing motivation when autumn arrives and the days get shorter? Look on night-time as a golden opportunity to rediscover the pleasure of walking, provided you follow these 4 tips!
1 - Personal illumination: Seeing and being seen is your priority
When night is falling or it is already dark, it is very important to pay attention to your immediate environment (potholes, puddles, branches strewn across your path, etc.) so that you do not fall or continue your walking session with soaked feet.
Take a torchlight with you, worn either on your forehead or chest: the most important thing is to know how to use it and be sure that the batteries will not give up on you during your walking session!
To be seen: make sure you wear light-coloured clothing and reflective bands on your arms and legs. You can even stick reflective bands on your clothes - anything is possible for your safety!
2 - Routes, clothing: Properly prepare your night-walking session
Preferably choose a route that you know well. Don't be adventurous since it's hard to find your bearings when night has fallen or the sun has not yet risen. Properly prepare your route to avoid any nasty surprises!
The temperature also drops as night falls. Make sure you wear warm clothing, provided it is comfortable. Since you will find it harder to find your bearings, it's very important to feel comfortable in your sports clothes and fitness walking shoes! Do you know about our tips for walking in cold weather?
Early in the morning, your body is not yet fully awake. At the end of the day, you are tired. Whether you're an early bird or a night owl, warming up is extremely important to ensure you experience the best possible session until the next one!
For both fitness walking and Nordic walking, set off gently, walking at your natural pace for 10 minutes before starting to go faster to reach your cruising speed.
4 -Make the most it, enjoy yourself!
Everything is quieter at night: there is less traffic and less noise. Everything takes on another dimension. For our technical partner Emmanuel Lassalle, "at night, your landmarks vanish and it's as though you've changed route. It's another world, which I love enjoying to the full!
" The night does not hold you back. See it as an opportunity to enjoy yourself even more.
But if the sensations of night-time fitness or Nordic walking do not always fill you with enthusiasm, remember that some stadiums have fairly generous opening hours. You can therefore carry on training on a floodlit track, even at night!
Are you ready to try the experience? Do you like walking at night? 
* The prices listed on the site are the prices recommended by DECATHLON SA's central purchasing department.